An Urgent Message From Millionaire Stock Trader Tim Sykes:
This Proprietary "Detector" Has Helped Me Score...
26%

...

32%

And Even

50%

Gains

In Under 10 Minutes!
... AND I AM GIVING AWAY MY FIRST TRADE FROM IT

NEXT WEEK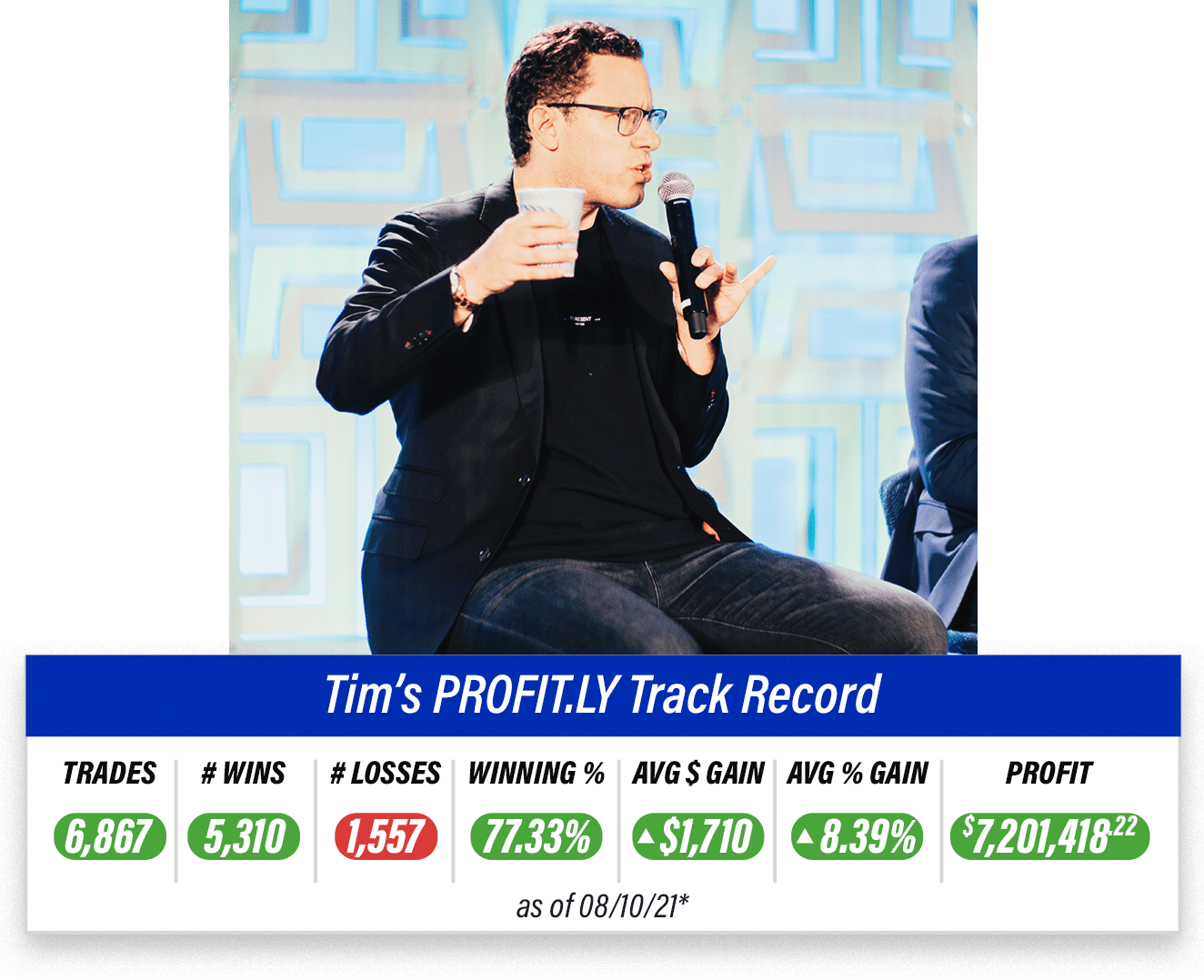 Hey there - Millionaire Stock Trader Tim Sykes here.
You're reading this message at the perfect time...
Because I've decided to give away one of the first trades I make next week...
Seriously...
I'll send you an email & SMS alert when I enter the trade...
And another set of alerts when I sell...
Both times the emails and text alerts will contain a full breakdown of the game plan behind the trade.
Go ahead, give it some thought.
All you have to do to receive this free trade alert is to respond to this message today.
But before I show you how to receive this next trade, let me tell you a little something that many people don't know about me...
I'VE BEEN USING AN UNFAIR ADVANTAGE WHEN IT COMES TO MAKING MONEY IN THE MARKETS
It's one of the most important devices that I use to maintain my 75%+ winning percentage and grow my $7.1M in lifetime trading profits.
When a catalyst event is detected I'm notified and when everything adds up for me, I make a trade.
So what is a Catalyst Event?
Well, simply put... It's when some type of news or event causes a stock to move.
They literally happen several times a day and they provide traders opportunities to take advantage of quick surges in the stock price.
Easy to understand so far right?
Good... it should be because take a look at:
HOW I SKIMMED $1,872 IN JUST 7 MINUTES!
Rather than me telling you how these catalysts work, let me show you a real life example of how I used them to make an average of 10% per trade in under 10 minutes!
Let's take a look at an example:
RNWF - This is the ticker for Renewal Fuels, Inc. which is a small energy company... that most people have never even heard about.
If you looked at the RNWF stock in June or even early July... chances are you would have seen a flat chart that looks like this: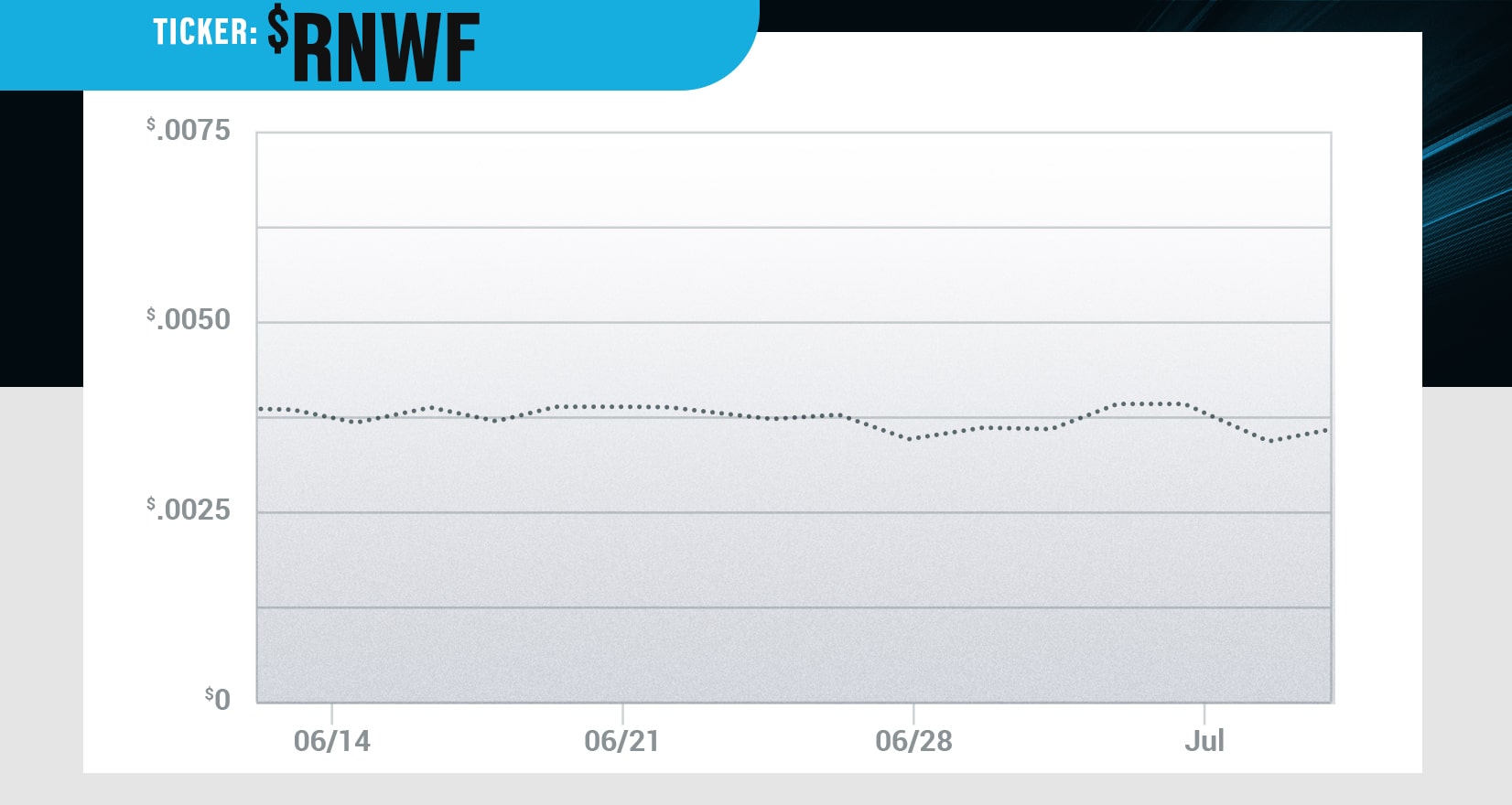 Pretty uneventful... right?
Well on July 12, 2021 @ 9:00am EST (before the market opened) my BreakingNews Scanner detected a catalyst news event...
Turns out they announced a new CEO who would be overseeing several new investment opportunities.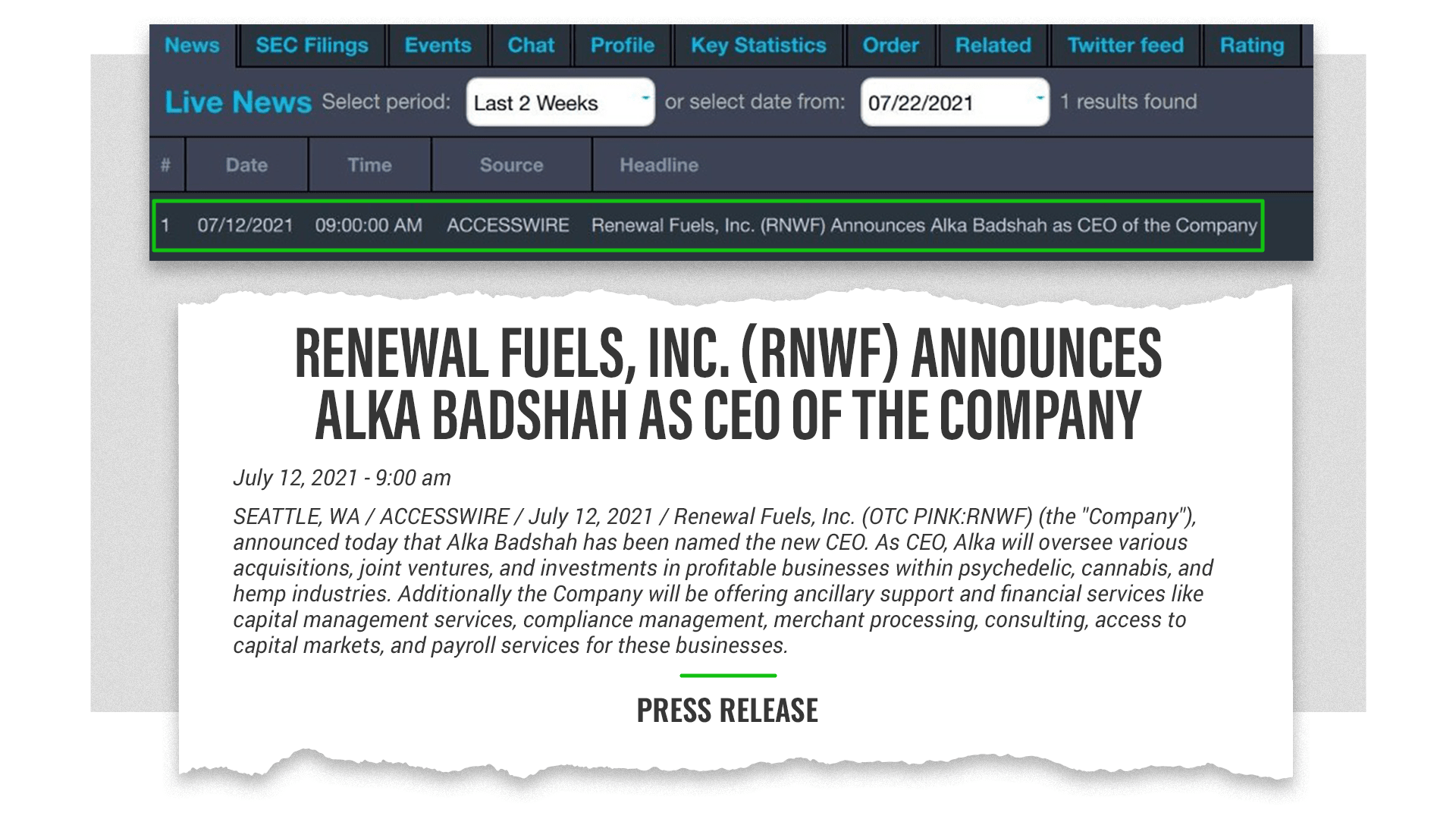 Now before we continue let's be clear...
In the grand scheme of today's news cycle, this is such a minor event and oftentimes... these catalysts are completely missed by most traders...
SERIOUSLY!
I bet you didn't see Jim Cramer or anyone on CNBC talking about RNWF's new CEO.
But trading isn't a popularity contest. The only thing that matters to me when it comes to trading is finding opportunities to profit.
I would never look to invest long-term in small companies like this. I am simply interested in movements that stocks like this make.
So watch...
Within minutes of the market opening I bought shares @$0.0073...
That's less than 1 Penny Per Share!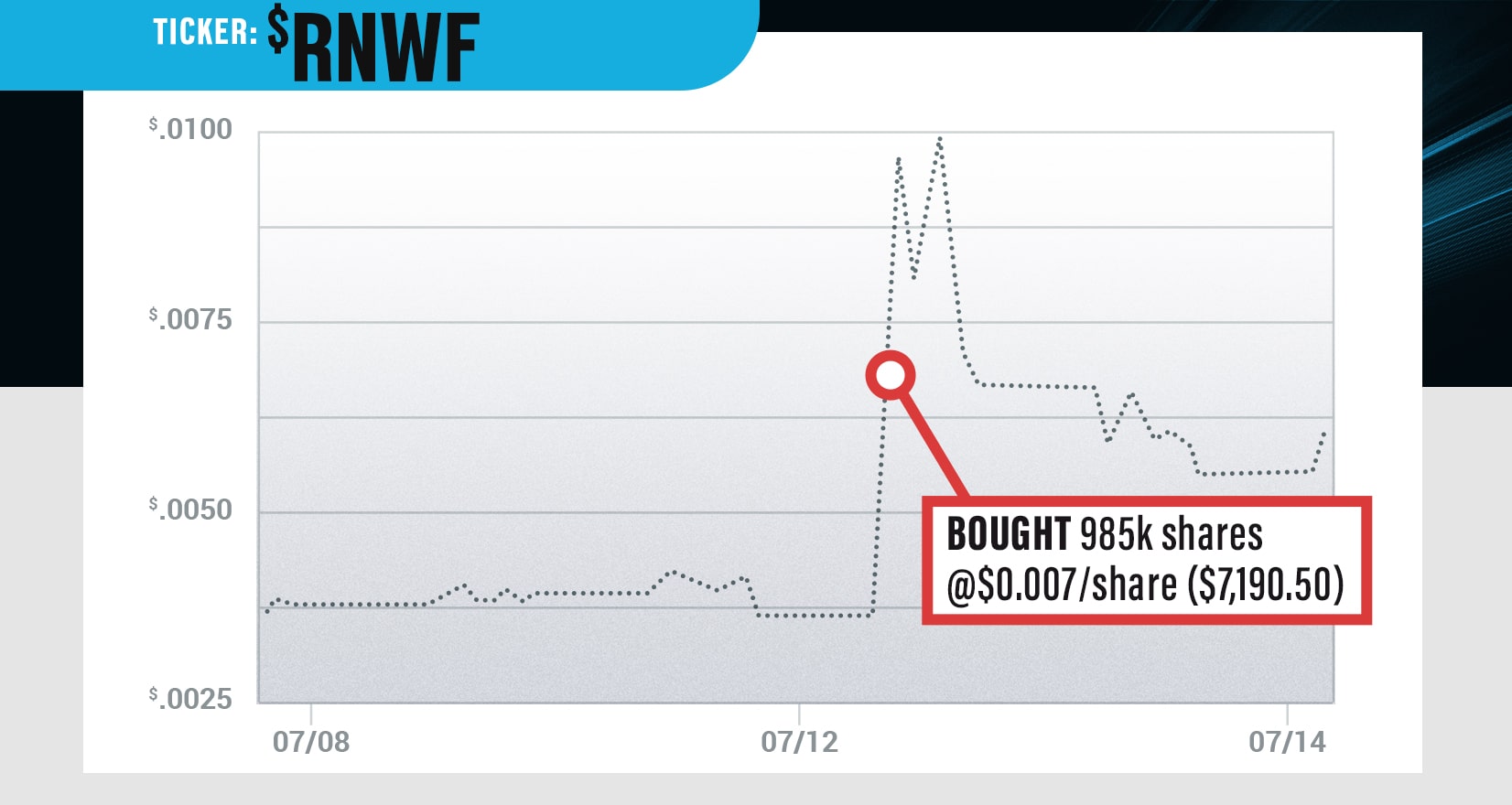 I chose to invest a total of $7,190.50... but that's just me.
Ultimately how much you want to invest is up to you. The strategy is still the same.
A few minutes later... I sold it at $0.0092 which was good for a:
$1,872 (+26%) Profit In 7 Minutes!
$1,872 is not a bad way to start off a Monday morning!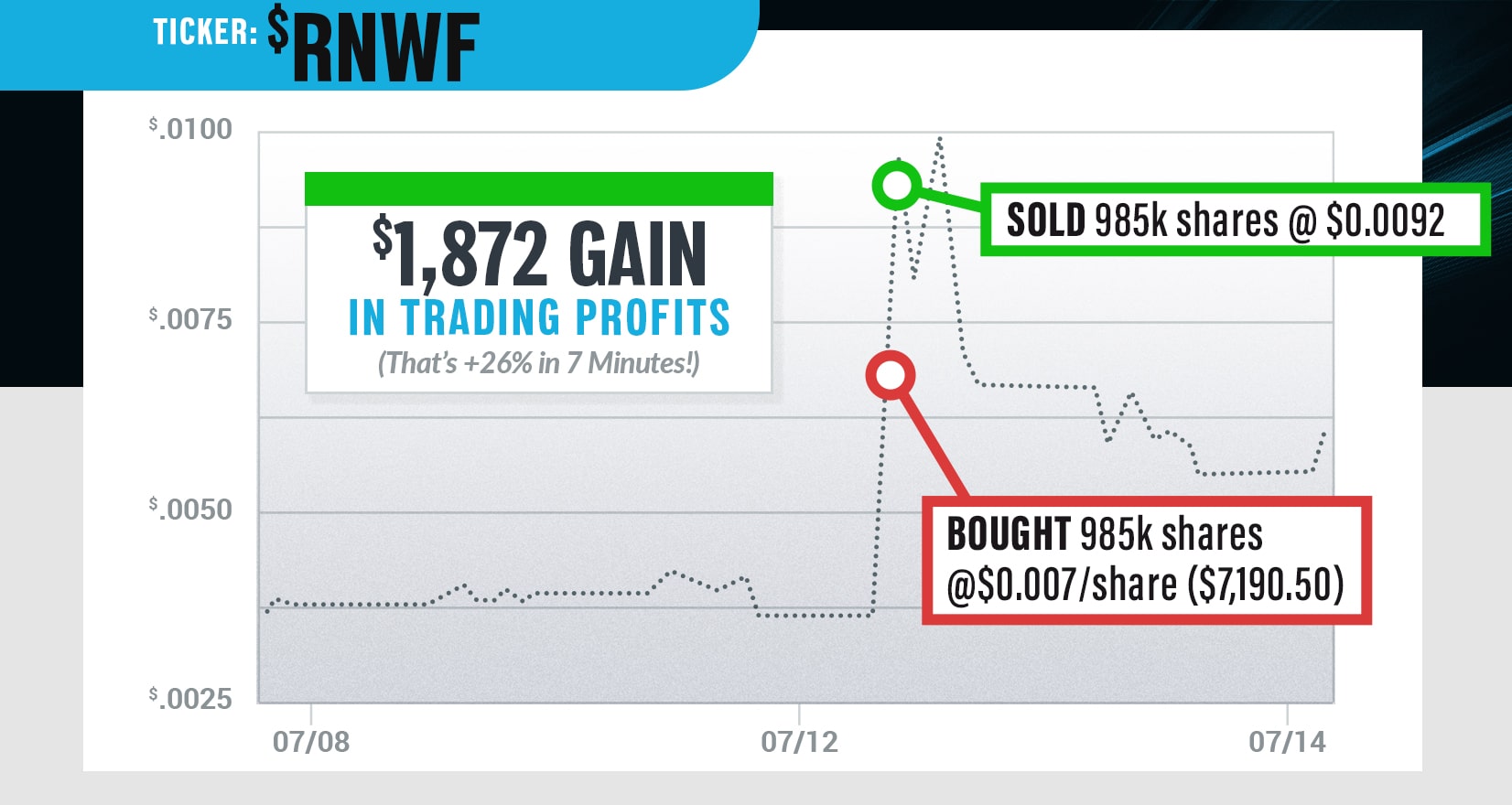 Let's put that 26% gain in perspective:
In 2020... the entire S&P 500 grew only 16.26%.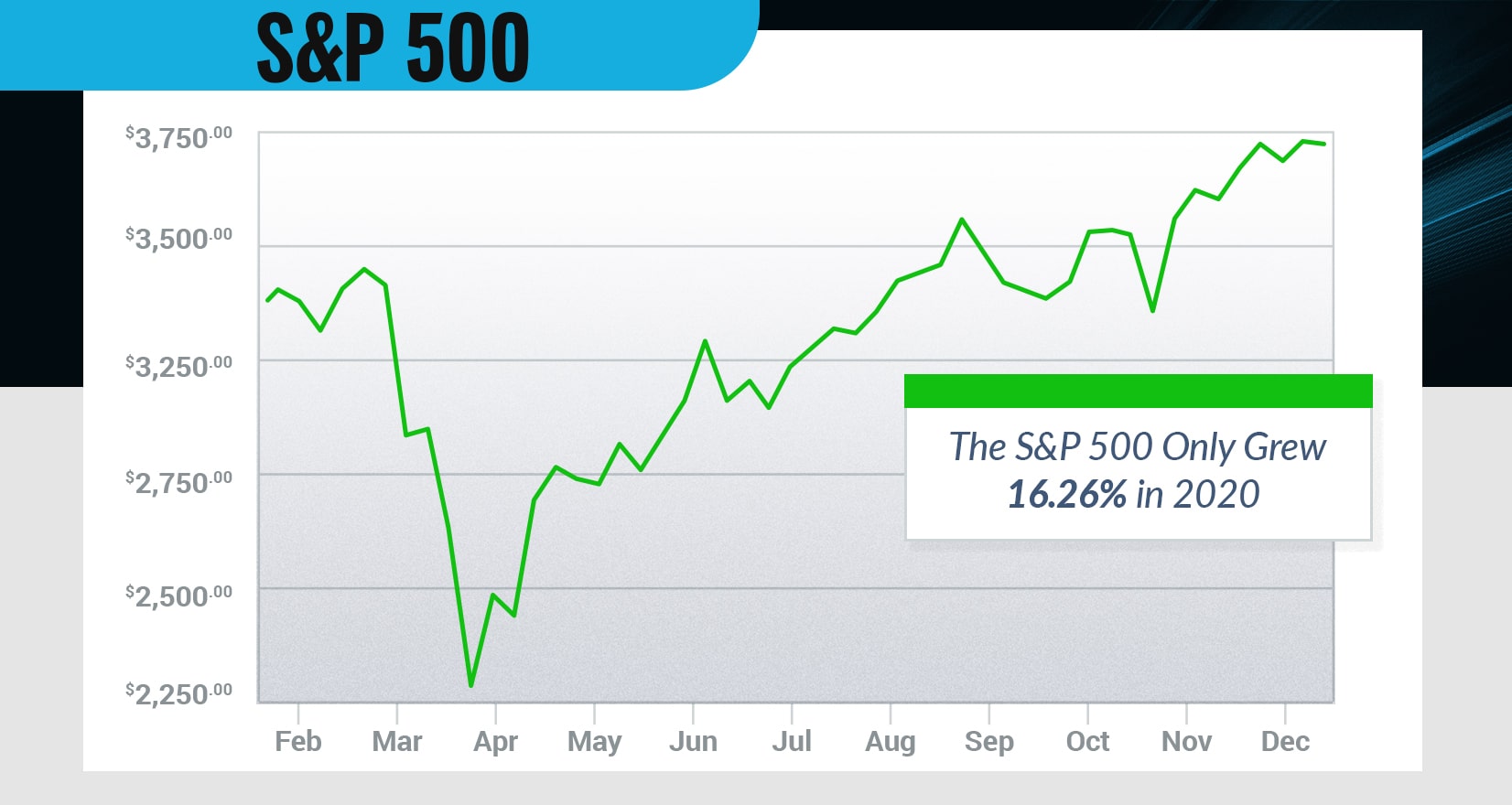 Look at that.
I'm not saying a 26% gain on a penny stock in 13 minutes is the same thing as the entire S&P 500 over a year. Obviously it's not.
The point I'm trying to make though is...
Catalysts Are Some Of The Best Plays For Both Beginning AND Experienced Traders
Over the past 10+ years I have taught THOUSANDS of my students the strategies and patterns that I use... including how to spot and trade these catalyst events.
In fact over 20 of them have gone on to become millionaire traders themselves.
Catalysts are one of the very first things that I teach my students...
And the basic concept is simple:
When some type of news breaks on a company... it'll often cause the stock to go up or down... depending on what the news is.
Either way... I look for opportunities to make money off the event.
Now let's be real... this is comparing one trade vs. an entire year.
Not all trades will be winners... All traders lose sometimes.
In fact... my win record is over 75%... not 100%.
And I have made almost 7,000 trades over 20 years.
You're going to have losers sometimes... it's ok!

But I make this comparison because it's important to point out that...
Catalysts Generally Cause Bigger & Faster Movements With Penny Stocks Than With More Expensive Stocks
But the most important key to my trading strategy is timing!
And that is especially true with Catalyst trading...
Timing is absolutely critical!
The window to profit off some catalyst events... is often minutes.
I mean... just look at the RNWF trade I just showed you.
The news broke pre-market... and within about 13 minutes of the market opening I was already in and out.
And $1,872 richer!
That's why having a news scanner is absolutely vital!
I use my scanner to get quick access to news, before others find out about the catalyst event.
Some traders pay upwards of $20,000 per year for complicated platforms like a Bloomberg Terminal...
Just to get the same type of news my BreakingNews scanner does!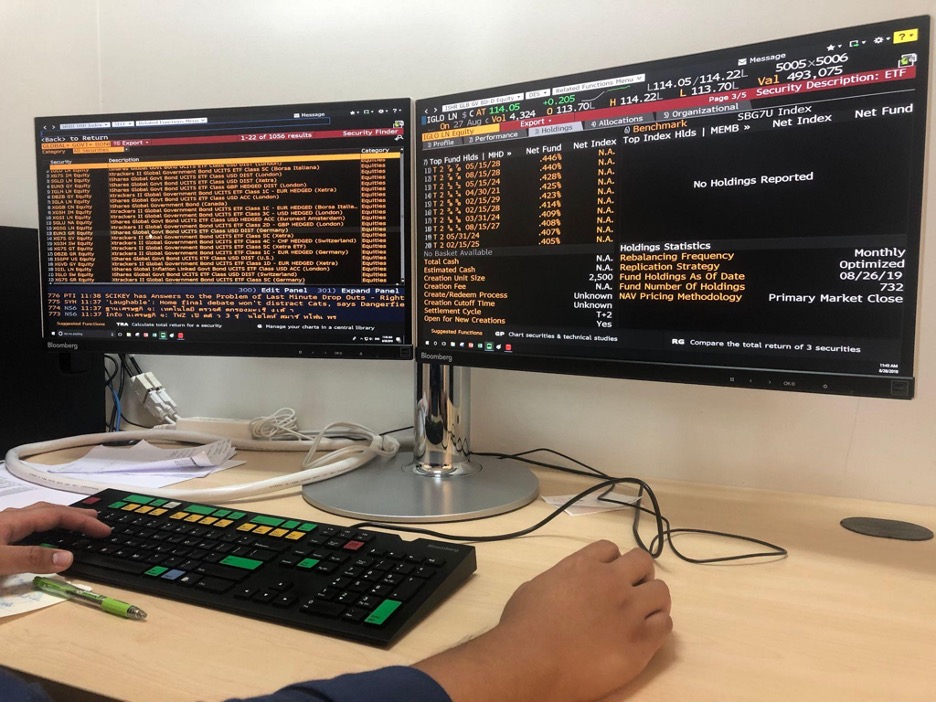 But let's be real... you SHOULDN'T have to pay $20,000 per year just for quick access to news.
My BreakingNews scanner does that for me.
In fact, look at this recent example...
MY SCANNER IDENTIFIED A TRADE THAT RAN 150% IN ONE MORNING!
Take a look at the ticker HALB...
Again for all of June & most of July... there wasn't a whole lot going on for this stock.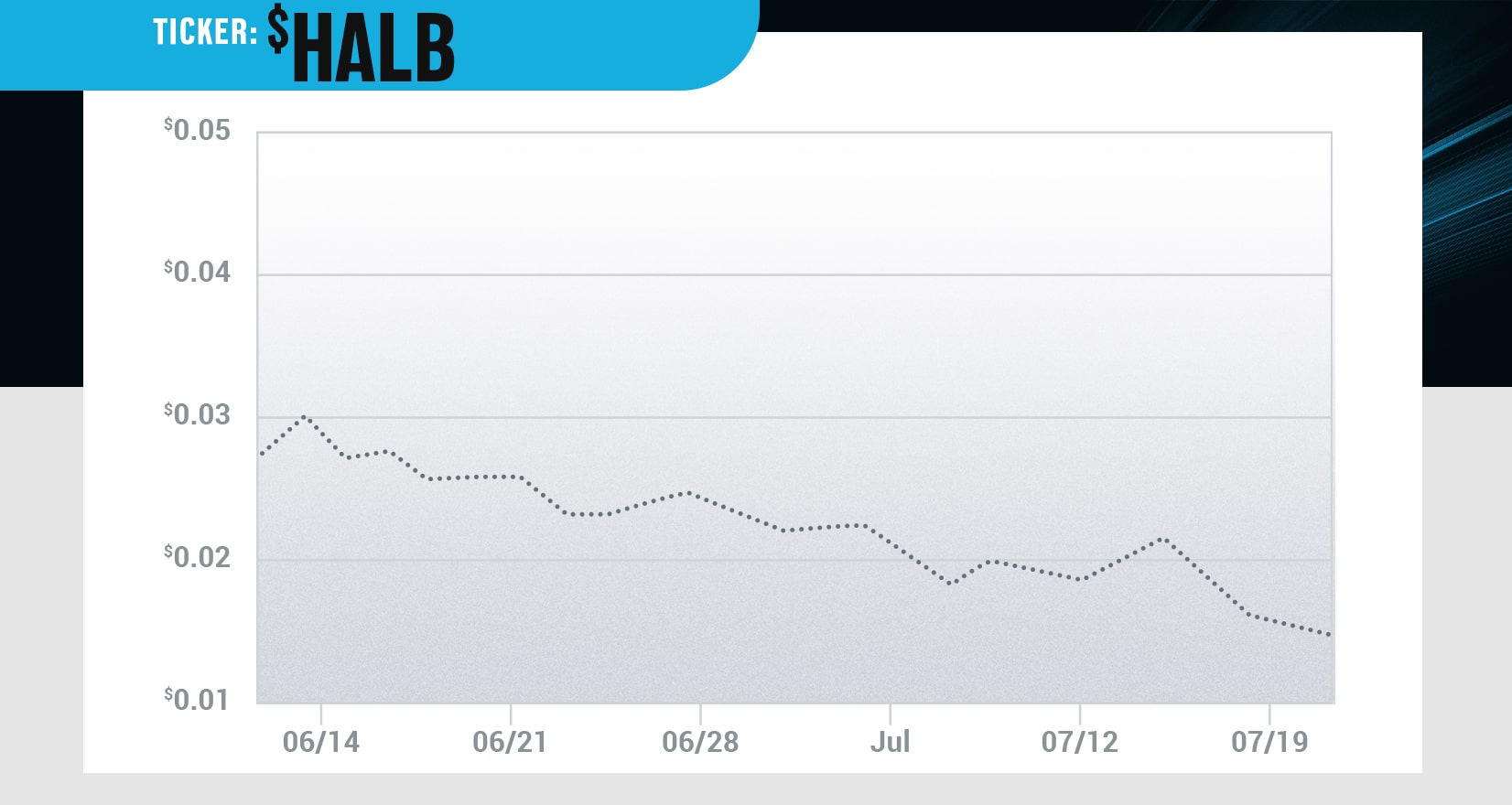 Most people wouldn't think anything of this 3 cent stock.
But on July 22nd around 9:00 AM my scanner detected a catalyst event on the ticker HALB... then subsequently one of my analysts identified it as a potential play and promptly alerted my chatroom to the news: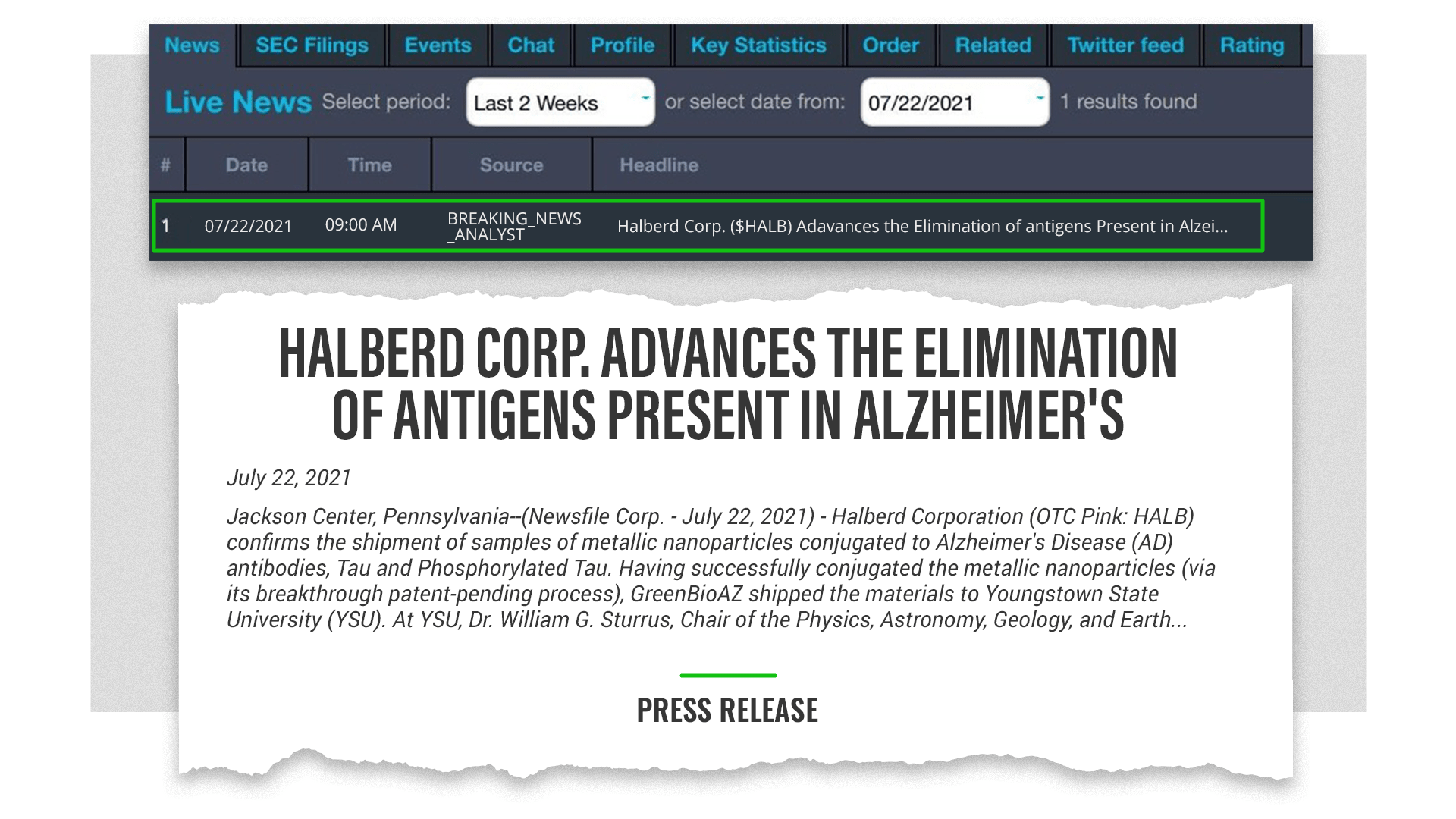 That's 30 minutes before the market even opened.
Within 2 hours... the stock gapped up 150%!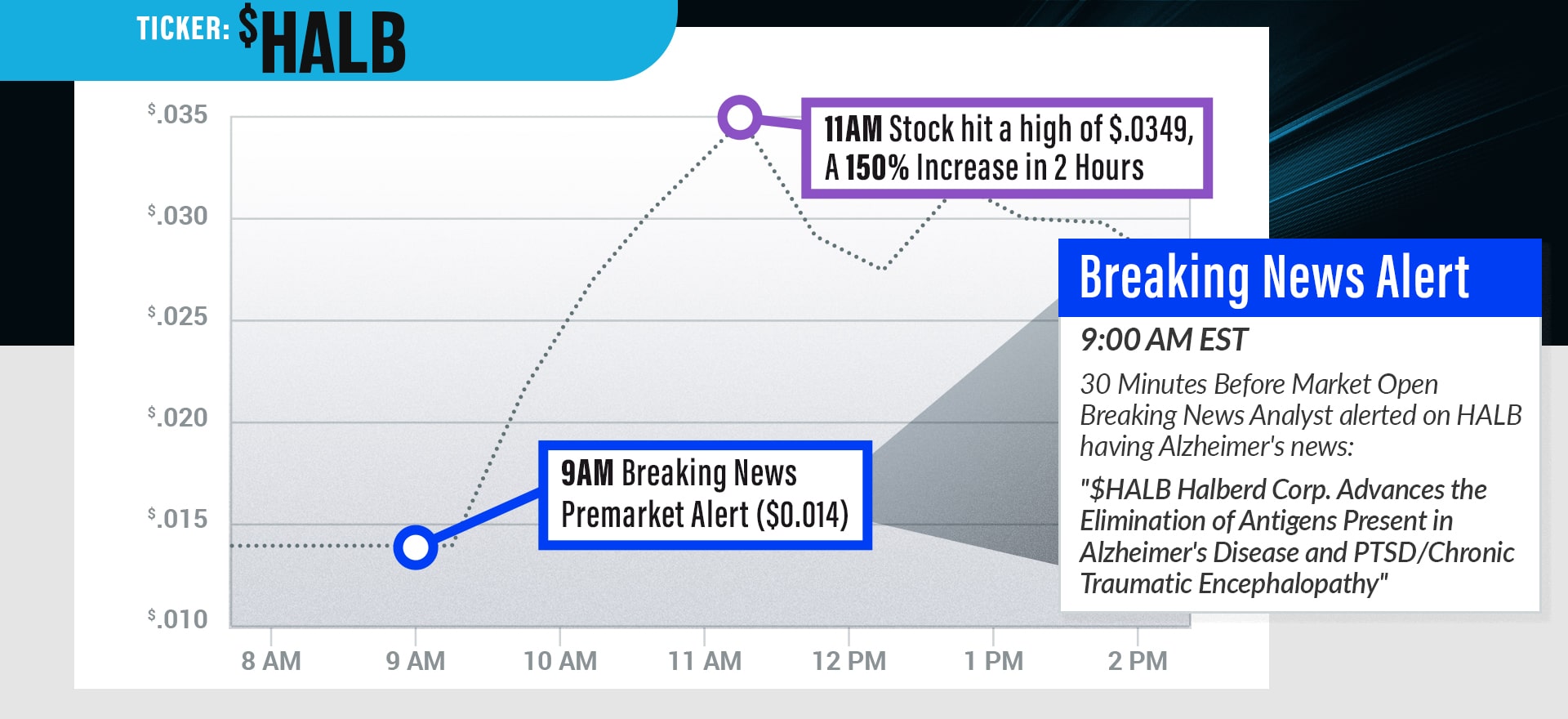 Before I go further... let me just clarify that I personally didn't make 150% from this one stock.
In fact... I personally don't typically hold onto stocks for 2 hours... ever.
I aim to be in AND out within minutes... because over the last 20 years that is one of the ways that has helped me best manage MY risk.
When you are a trader... you're the one who sets your own rules and you have to find what works for you.
You don't even need to have perfect timing...for a day traders 2 hours can be a pretty big window to be able to find at least some way to make a play on it.
As you can see even though I didn't gamble by holding this stock for 2 hours...
I was able to score a $975 (20%) profit within 7 minutes using this very same catalyst event with just a $4,875 investment.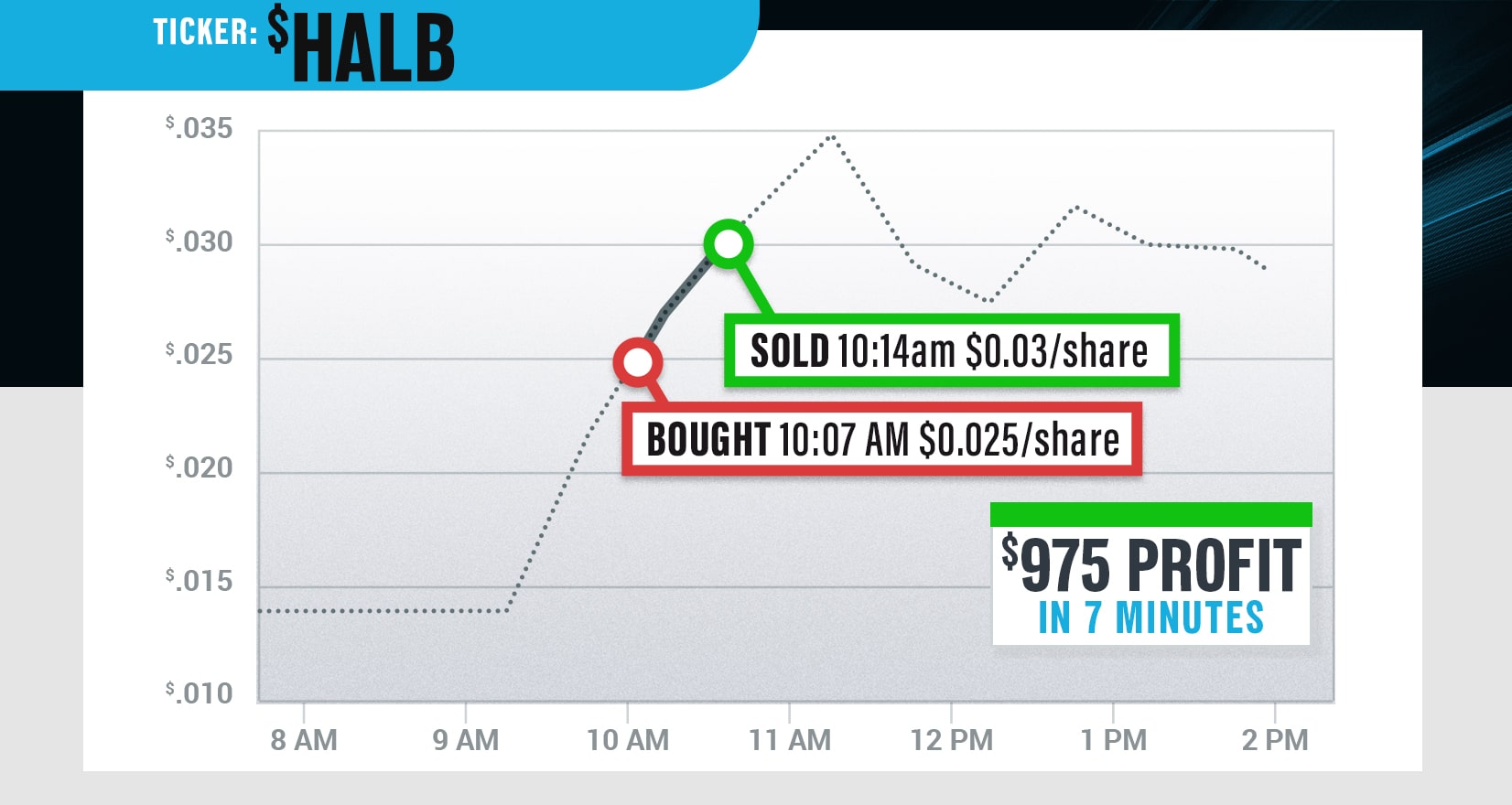 Bottom line — This is your chance to...
Get my first CatalystX trade from my scanner... sent to your email and phone... EVERY WEEK For An Entire Year!
I'm giving members of my Tim Sykes Letter access to the very first trade that I make using my BreakingNews scanner.
I call these my CatalystX Trades.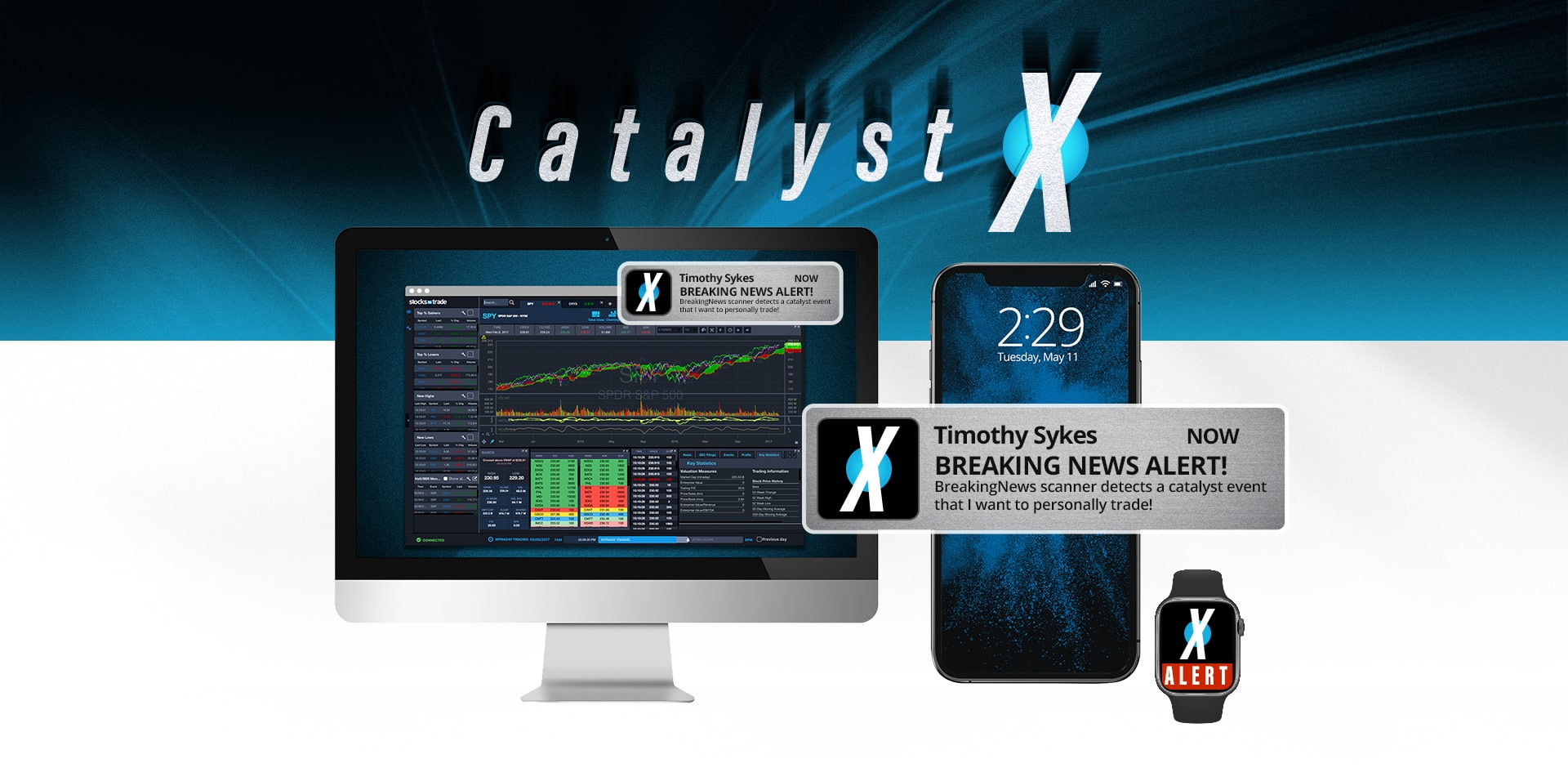 The concept is pretty simple...
When my scanner detects the first catalyst event that I'm willing to invest my own REAL money in...
I will send you both an email & SMS alert containing my strategy & the price I purchased it at.
This is a real trade... not some bogus simulation. I put my real hard-earned cash where my mouth is.
There are enough fake traders on the internet these days... and if you want to work with one of them... then great... go for it... But that's not me.
100% of my trading profits go to one of the several charities that I donate to.
In fact — I have donated over $6 million of my trading profits to open schools, protect the environment and help people around the world in need.
People are counting on my trading profits! And I take that responsibility seriously.
So you can rest assured that the trade alerts that I send out are legit.
Not only do I send you buy alerts though... I'll also send you an alert whenever I sell my position along with a straight to the point recap of what went right or wrong with my trade.
I send both my winners and losers. Full transparency!
Again no trader is perfect.
But check out the results from the first alerts that I send out each week using my BreakingNews Scanner:
Track Record From Last 3 Months: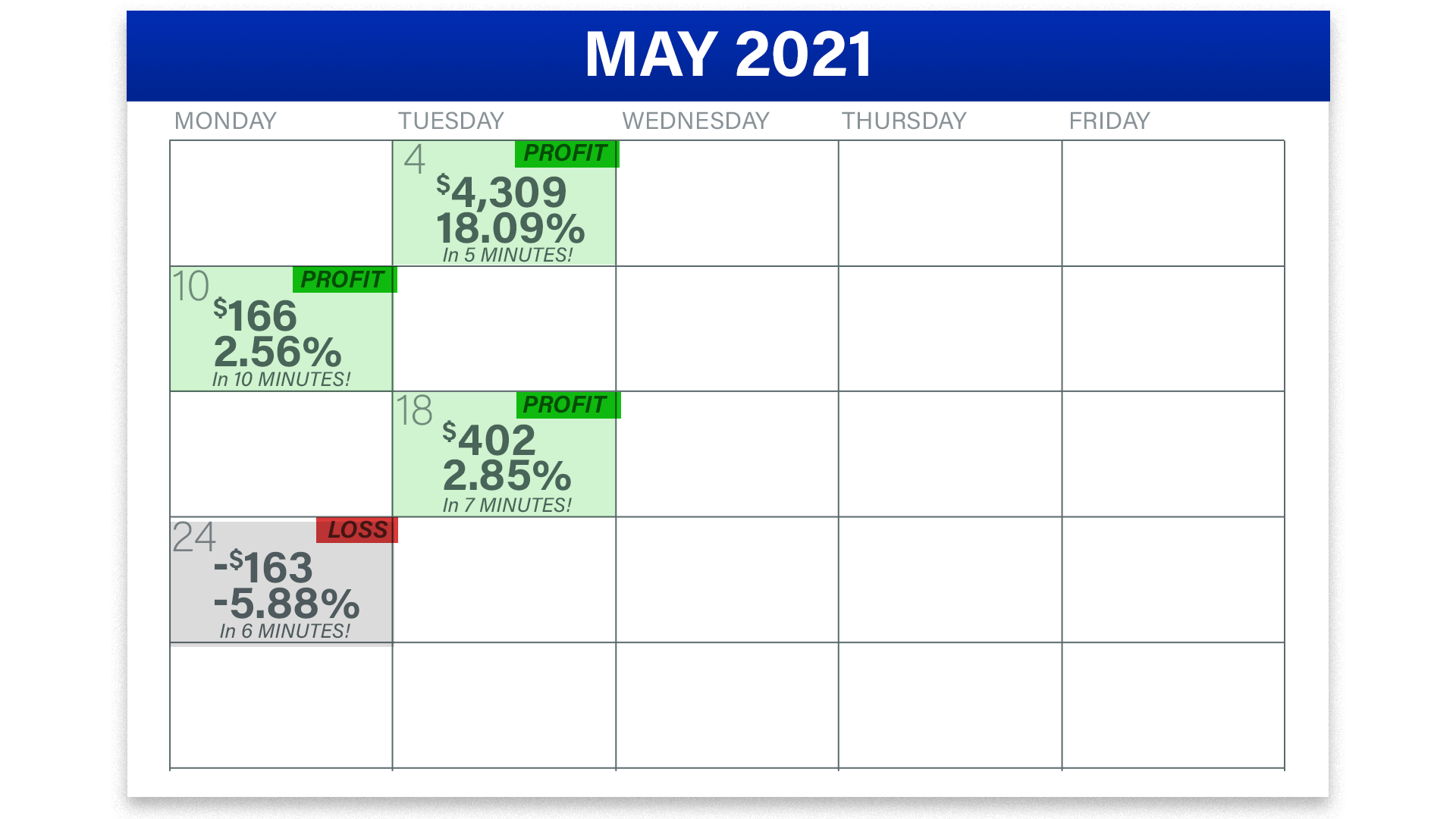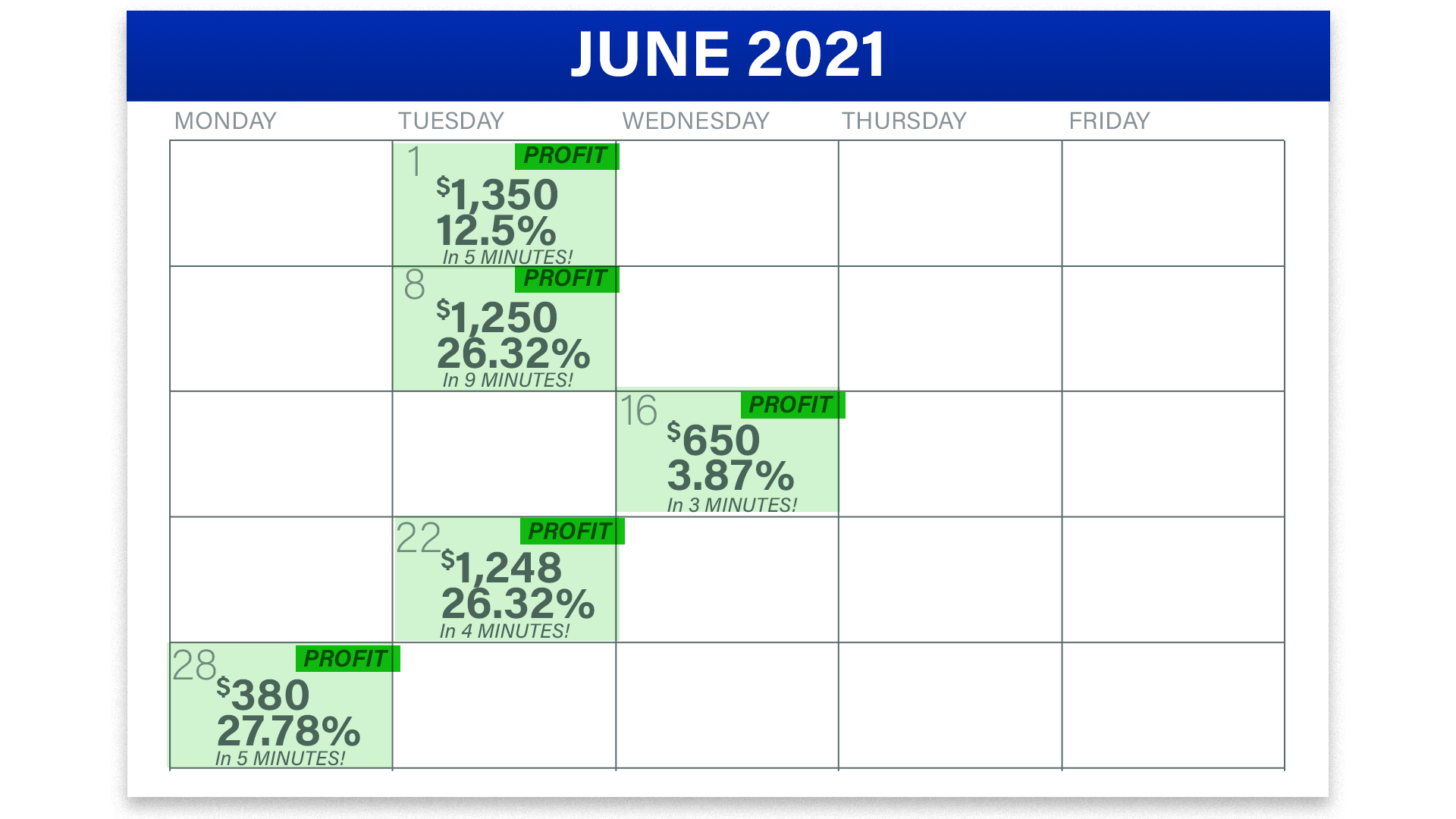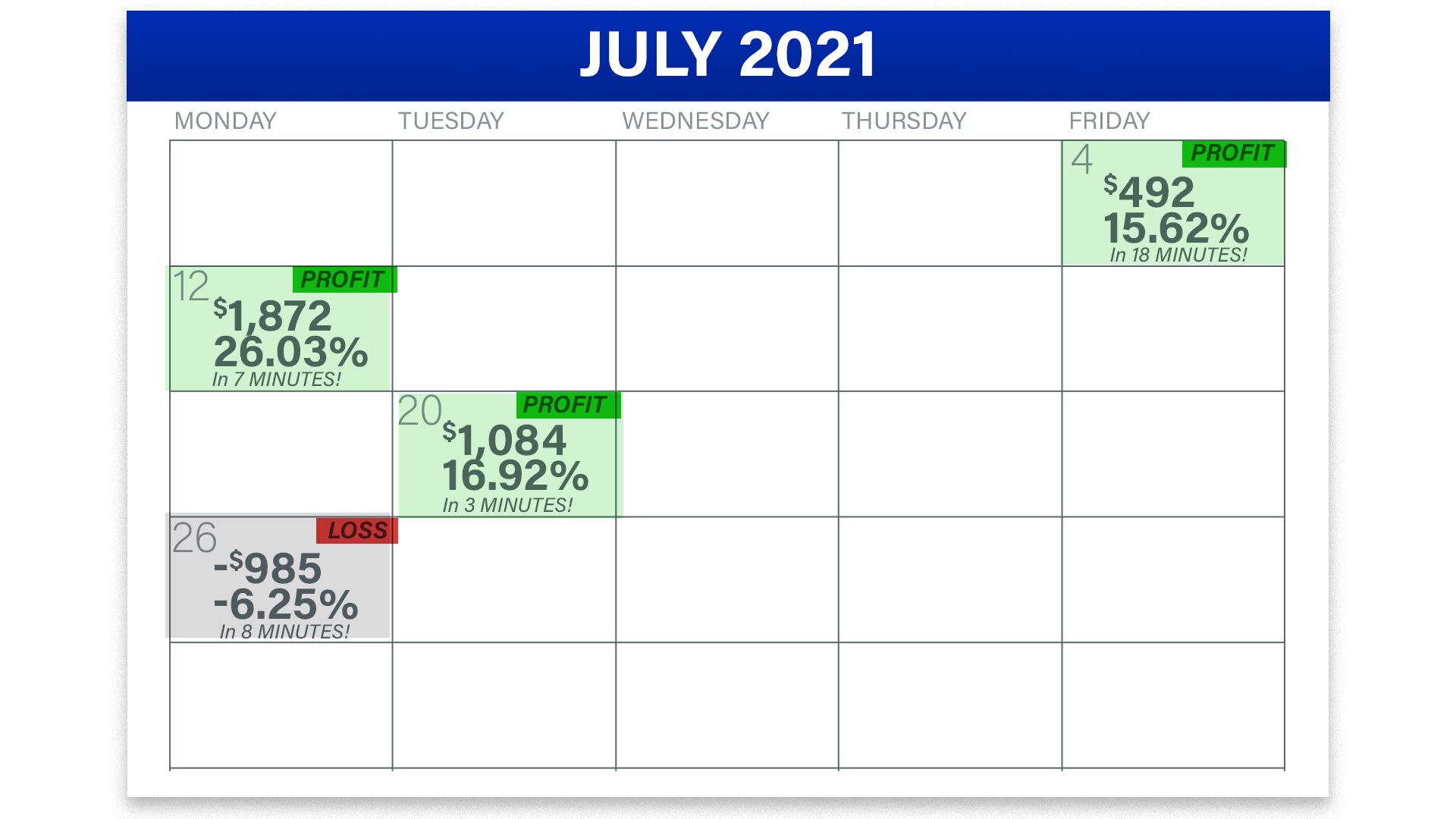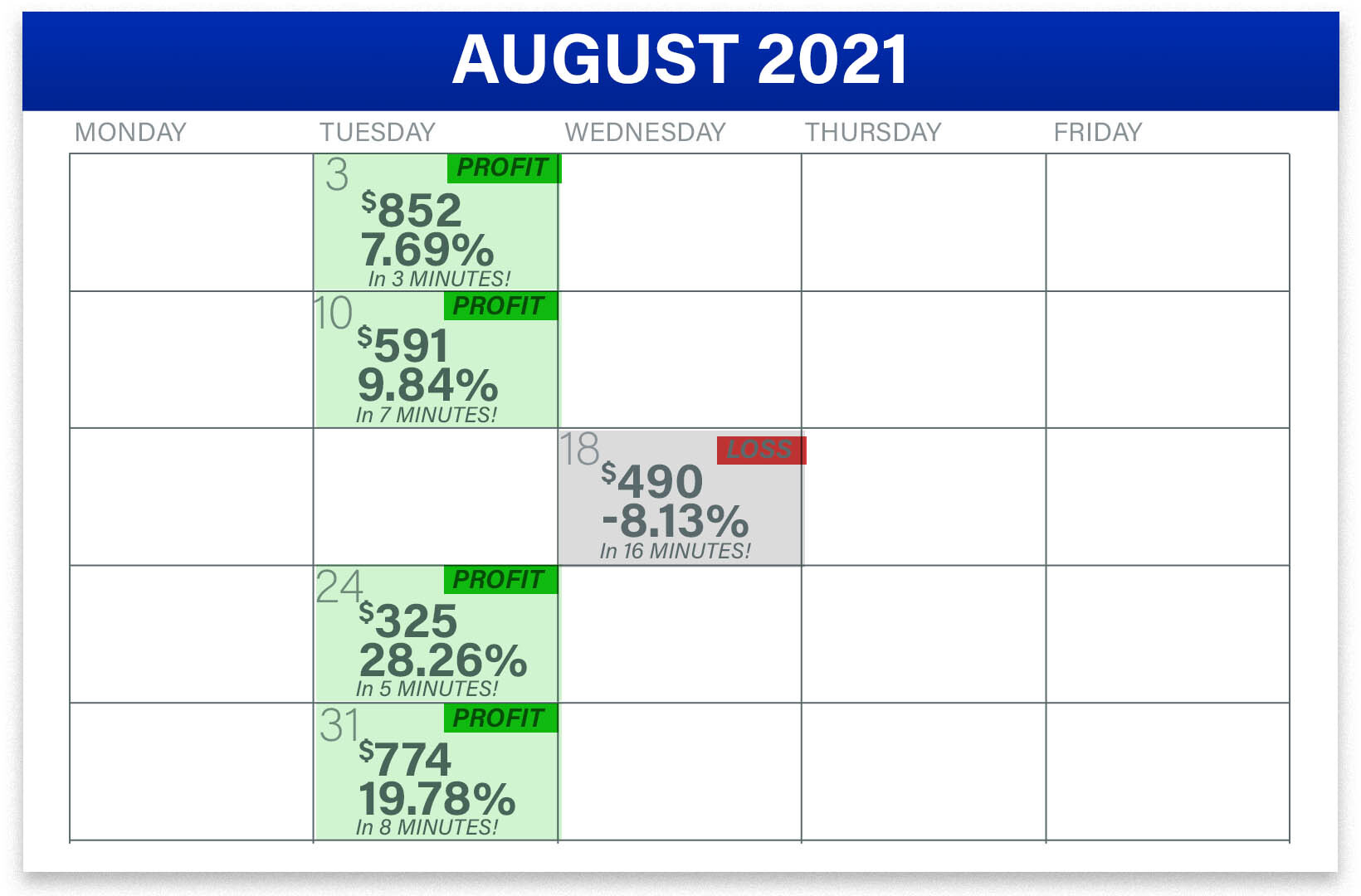 The results speak for themselves!
These are all verified trades from my brokerage account.... Again all real money!
And you can receive my CatalystX Trade SMS & Email Trade Alerts.. for free.
But that's not all...
I don't want you to simply rely on me to find catalyst events for yourself.
That isn't a good approach.
Ultimately... I am not a stock advisor.
I am a teacher.
My goal is to help as many traders as possible to reach their full potential.
So when you receive my CatalystX trades... you're going to receive a complimentary 14 day trial to StocksToTrade BreakingNews... where you can directly access both my StockToTrade Scanner...
AND you're also going to get...
The very popular BreakingNews Chatroom.
This is where my analysts will dig through the top catalyst events and post them in real-time with their quick takes to help you sort through all of the information.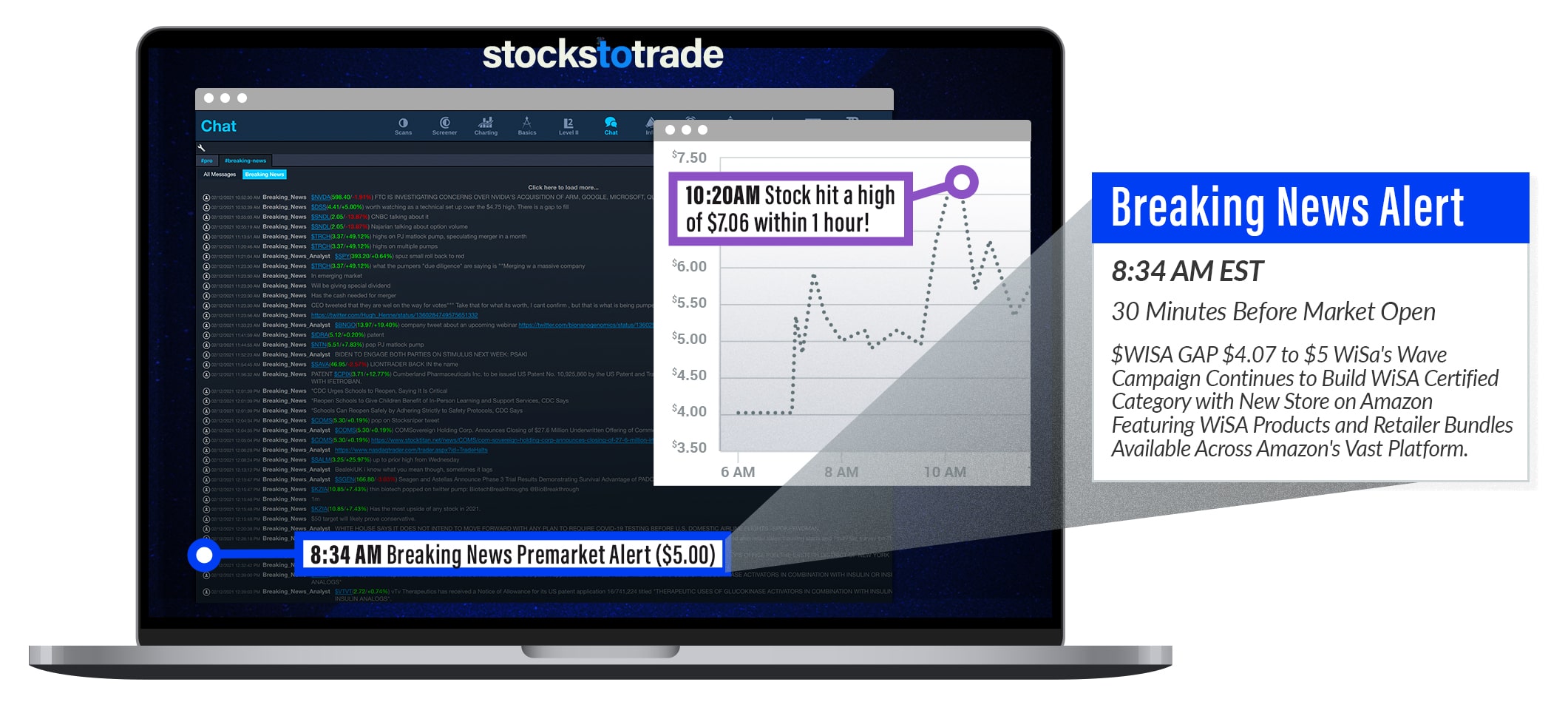 You can try out this powerful all-in-one platform for FREE for 2 weeks.
That's a $114 value!
I want you to get your hands dirty and learn. You can even paper trade right inside the platform as you learn my strategy.
Again... I'm not here to B.S. you...
You're not going to become a millionaire trader simply by mirroring trades.
It takes work and research to learn any trading strategy... and you have to be on top of what is going on in the market.
But you have to be a member of my Tim Sykes Letter... which in itself is one of the best deals you're going to find.
As a member you're also going to my top trade ideas & gameplans each month: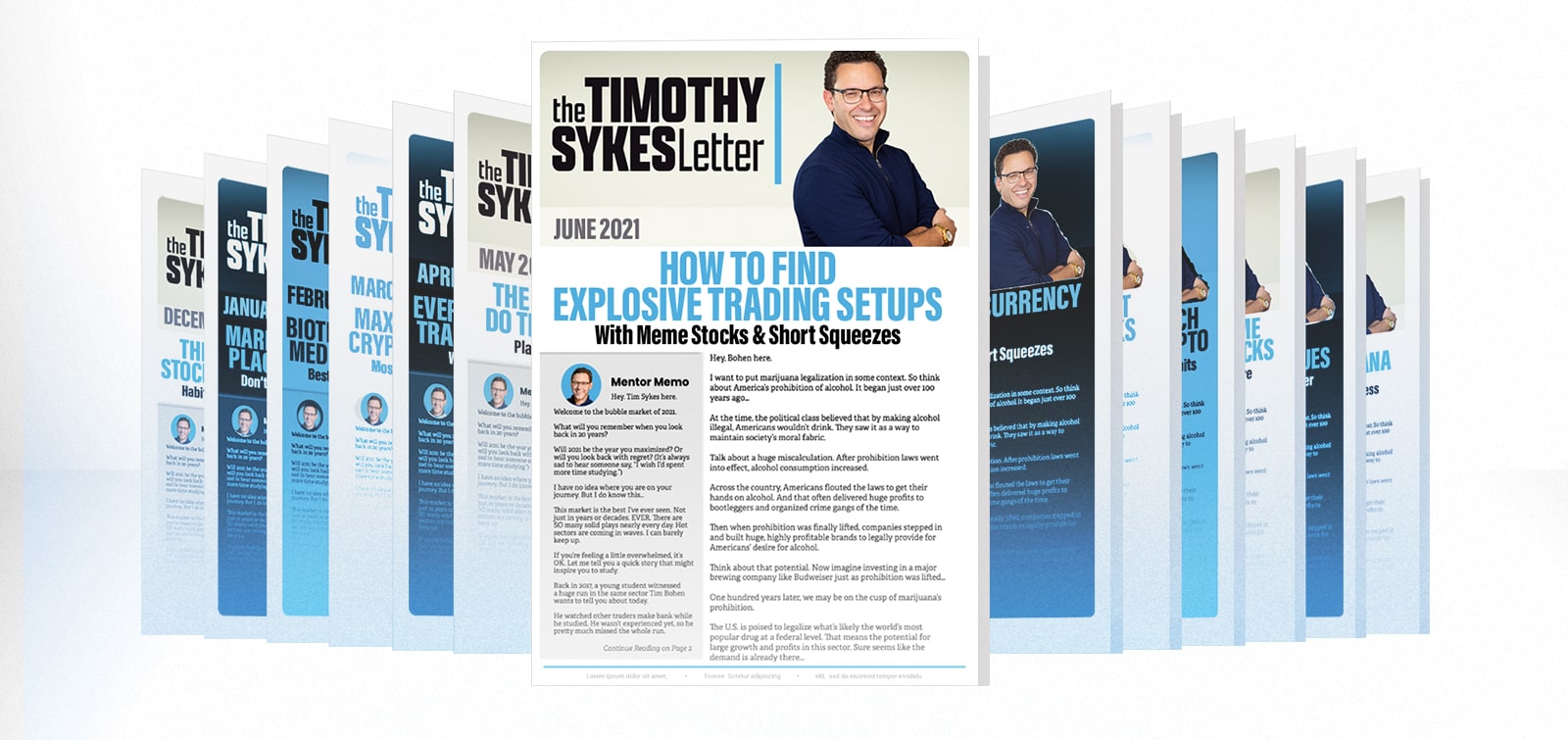 Every month my team of top analysts and I go through sectors that we believe will explode and we'll outline our strategy and the top stocks that we're looking at for those sectors.
Think of each of these letters as an easy-to-read game plan for the hottest upcoming sectors.
And so far... we've done a pretty good job predicting the latest and greatest trends in the market.
In 2020 for example... 87% of the stocks we highlighted ended up making money.
Have a look at the winners and losers for yourself: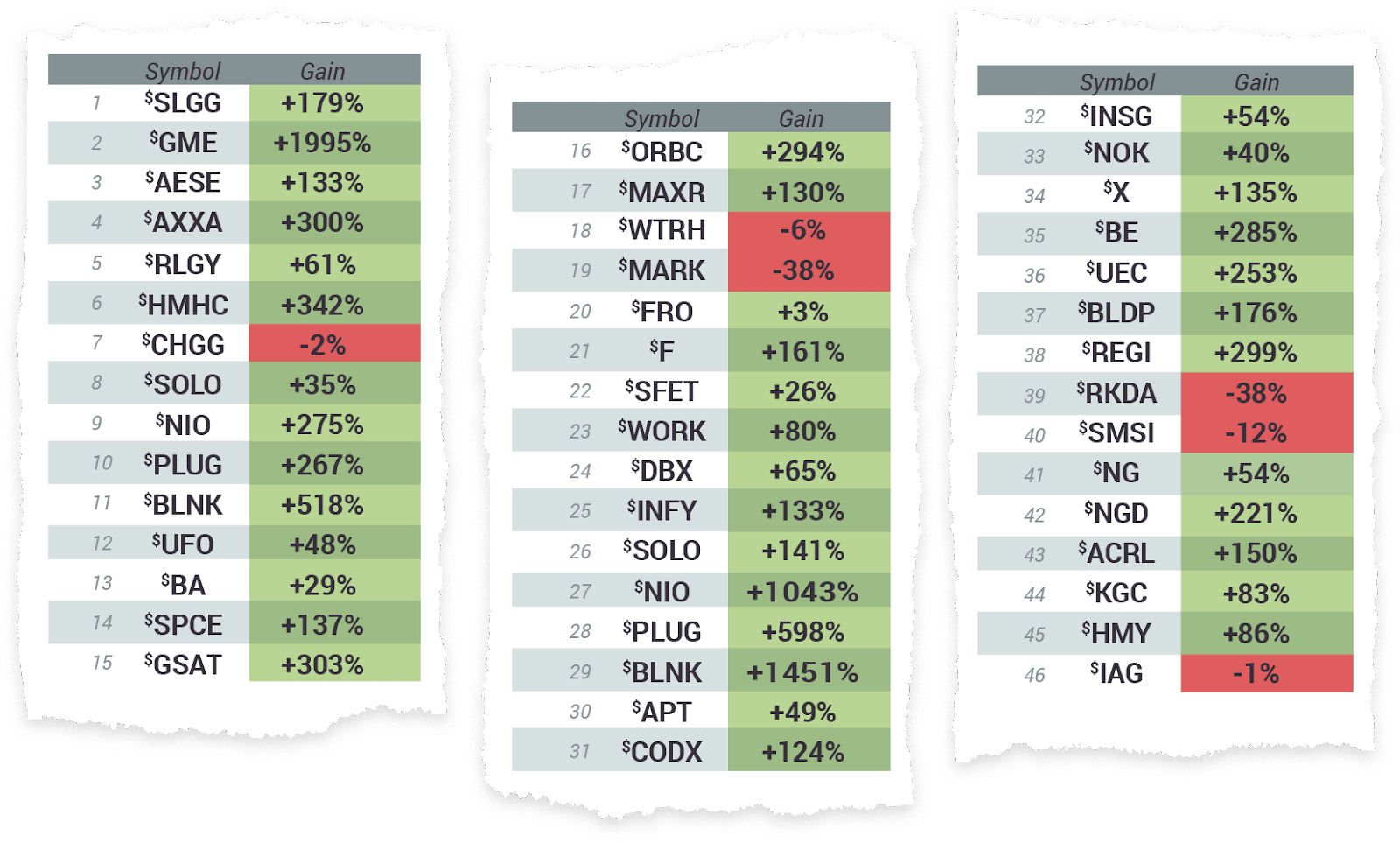 Not bad. Right?
And as you can see... a lot of these tickers are stocks that you probably have never even heard of.
These aren't obvious picks that you'll find on every other stock trading website or CNBC.
We do the research and we do our best to unturn every stone that we can find.
And as a member of my Tim Sykes Letter... you'll get 12 months of these reports along with my CatalystX Trade Alerts and a 14 day trial to my scanner.
But I have more for you.
Like I said... I want you to actually learn my strategy.
I am being real with you... you have to put in the work and know what you are doing... especially when it comes to managing your risk.
There isn't any way around that.
But I personally believe anyone is capable of learning my strategy if they put in the work, study hard and stay dedicated.
You're also going to get an entire education suite of some of my top training that I have ever produced.
Remember I have produced over 20 students who went on to become millionaire traders themselves and have taught thousands of others.
And this is some of the same trainings that they went through.
This includes:
The Complete Penny Stock Course: Learn How To Generate Profits Consistently By Trading Penny Stocks. Sold on Amazon for $28.97 – Included For FREE
20 Hours of my Traders Checklist Part I and Part II video trainings – I'll personally walk you through some of my best methods on camera. A $397 value - Again... Included For Free
My entire archive of Tim Sykes Letter Video Market Minutes ... where my top analyst Tim Bohen goes through the top trends in the market each week and helps you make sense of it all.
You're probably wondering at this point how much does this Tim Sykes Letter costs. If you add all of this up... we're talking about over $800 in value.
BUT YOU'RE NOT GOING TO HAVE TO PAY ANYWHERE NEAR $800 TODAY!
Like I said... I am in this for traders like you.
I get that $800 is a lot of money... especially when you are getting started.
So I am offering a deal that is going to frankly... blow all of my competitors out of the water.
For a very limited-time you can get everything I listed above... FOR ONLY $29.95!
Let's Recap...
Today You're Going To Receive:
1 CatalystX Trade Alert (Buy & Sell) Each Week via email & SMS! Valued at $299.
My Monthly Tim Sykes Letter ... Valued at $99
The Complete Penny Stock Course: Learn How To Generate Profits Consistently By Trading Penny Stocks (Sold on Amazon for $28.97)
The Traders Checklist Part I and Part II (20+ hours of video training)... A $397 value
Weekly Market Minutes Video Updates from my Analyst Tim Bohen
BONUS: 14-Day Trial To StocksToTrade + My BreakingNews Scanner... A $114 value

* Trial Not Available To Current StocksToTrade Subscribers.
That's 1 Year Of Over $800+ Worth Of Trade Ideas & Education...

For Only $29.95!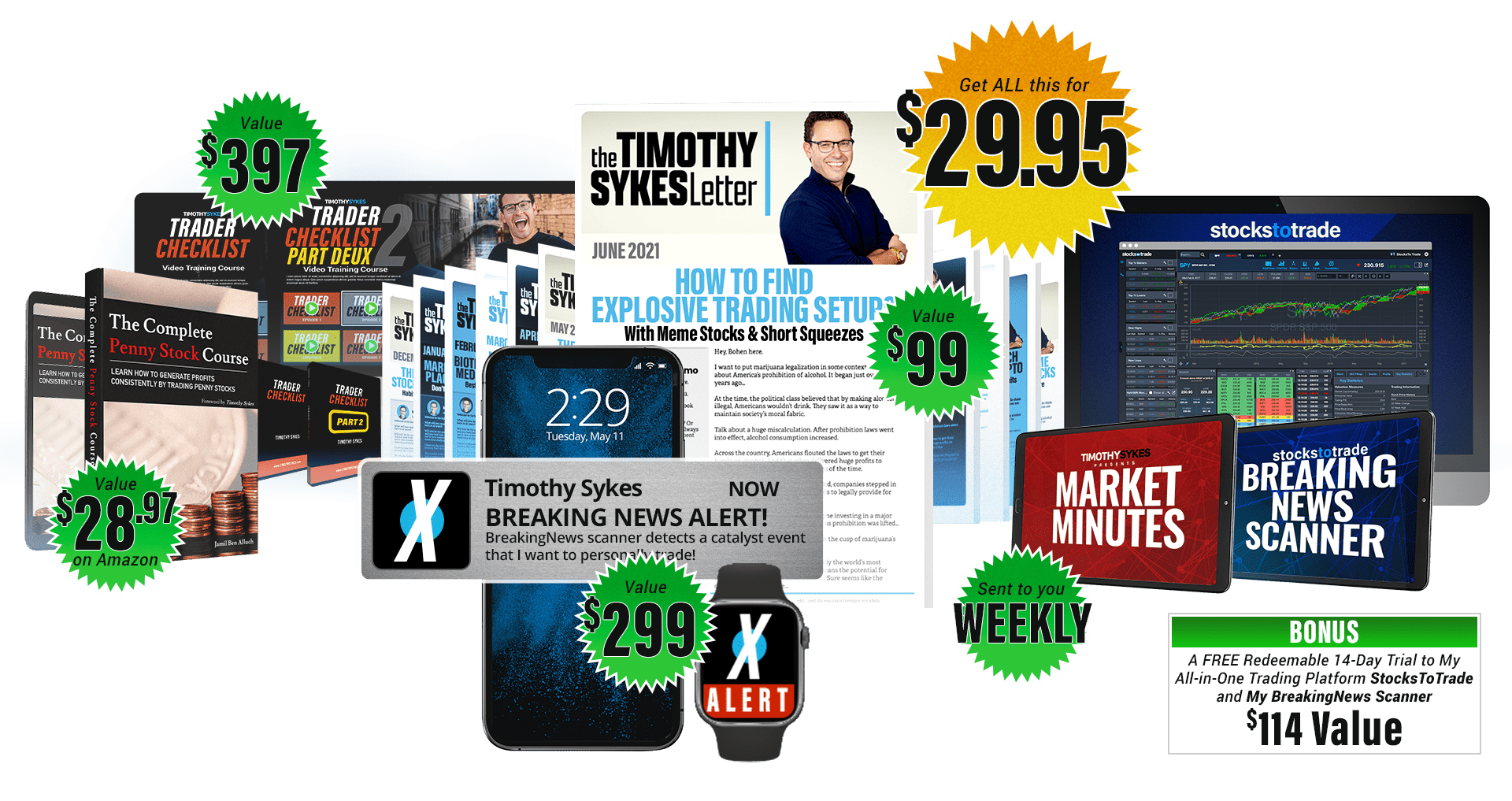 This is a special introductory price to kick off the public launch of my CatalystX Trades.
After that the price will be increasing exponentially.
Take another look at the calendars that I showed you earlier...
Seriously... do that math...
That comes out to less than a dollar per trade idea!
Plus you're going to get my... my most popular education suite and a 14-day trial to my scanner... ALL INCLUDED with my monthly Tim Sykes Letter!
So what are you waiting for?
I've done my part by making this as affordable as I can.
It's your turn to take the next step.
My next trade will be sent out within the next few days.
The market doesn't wait for anyone!
Join The Tim Sykes Letter Now! Only $29.95: